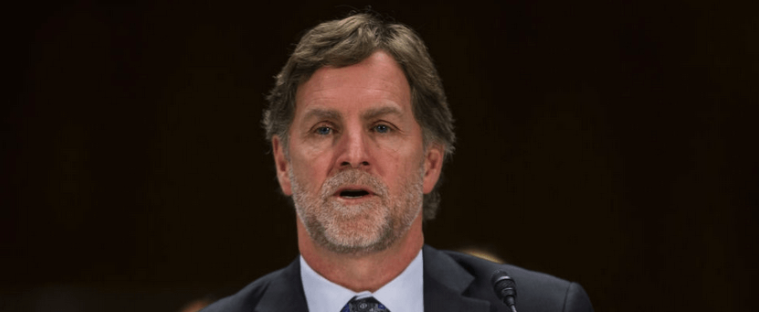 The Pentagon's Intelligence and Security Director for Defense Intelligence and senior executive for the Office of the Under Secretary of Defense for Intelligence and Security, Garry Reid, has been dismissed from his position within the US government, following numerous DoD Inspector General investigations into misconduct allegations against Reid, including one involving former Advanced Aerospace Threat Identification Program (AATIP) director Luis Elizondo. Elizondo accused Reid of hindering formal investigations into unidentified aerial phenomena (UAP) by the US government, and of deliberately misleading both the defense establishment and the public regarding Elizondo's role within the AATIP program.
Although no official reason has been given for his dismissal, as the Director for Defense Intelligence (Intelligence and Security) (DDI (I&S)) Garry Reid was "in charge of all counterintelligence, security, and law enforcement operations within the Department of Defense," according to The Debrief. He was also in charge of the office responsible for evacuating Afghan refugees during the US's withdrawal from Afghanistan, the Crisis Action Group for Afghanistan.
In 2019 the Department of Defense Office of Inspector General (DoDIG) launched an investigation into allegations that Reid was conducting numerous sexual relationships with subordinate employees and sexual harassment, and a second complaint filed the same year alleged he fostered a "negative work environment," according to a DoDIG Report of Investigation. Although the DoDIG heard from numerous witnesses regarding Reid's conduct, nothing was done to correct his behavior.
However, in May 2021 former AATIP director Luis Elizondo brought a formal complaint against Reid, his former boss in the DoD. Elizondo accused Reid of "playing a central role in obfuscating information regarding the Pentagon's intriguing newfound interest in "unidentified aerial phenomena," according to The Debrief, and of "maliciously misleading" the public regarding Elizondo's role and duties within the ATIP program.
Elizondo's problems with Reid began shortly after he resigned from his position at the Pentagon in October 2017 when Reid told him that he would "tell people you are crazy, and it might impact your security clearance," during a phone call regarding Elizondo's resignation; Elizondo also received several phone calls from former OUSD(I&S) colleagues that Reid and one of his subordinates were "coming after him."
Following Elizondo's participation in a December 2017 New York Times article that revealed the existence of the AATIP program, the Air Force Office of Special Investigation (AFOSI) launched an investigation into the leak of the three gun camera videos—now known as "Tic-Tac", "Go Fast" and "Gimbal"—taken by naval aviators during UAP encounters in 2004 and 2014. The AFOSI was led by the OUSDI to believe that these videos were classified material, making the matter a criminal investigation; in reality, the videos were never classified to begin with, making the leak simply an administrative issue. An anonymous senior defense official with firsthand knowledge of the investigation said that they knew for certain that this incident was orchestrated by Reid as a form of retaliation against Elizondo.
The same official said that Reid also tried interfering with Elizondo's security clearance, something that could impact any employment with the DoD he might seek in the future. According to the official, "Reid had USDI Security put an entry in Elizondo's file on Scattered Castles, which is the clearance system used for IC [intelligence community] interagency clearance passage, so that if he tried to go to any SCIF in the IC, Reid would get a call and be able to cause questions so that Interagency partners would come to believe there was a 'problem' and not let him in," the Defense official explained.
"This is a stealth administrative way to block someone's access without overtly putting anything out there. These types of admin dirty tricks were perpetrated by Reid against Elizondo over and over again."
Reid was also behind the DoD's claim that "Mr. Elizondo had no responsibilities with regard to the AATIP program while he worked in OUSDI [the Office of Under Secretary of Defense for Intelligence]," despite an earlier statement made by the Department that confirmed that he was indeed the head of the AATIP program, along with numerous officials attesting to having been debriefed by Elizondo on UAPs while he was working in that capacity. A former senior advisor to Secretary of Defense James Mattis "actually called PAO and said, 'How can you say that? I was read into this and [was] briefed by him [Elizondo].'"
Elizondo launched a formal complaint regarding the official refutation of his duties as head of AATIP, accusing Reid of "malicious activities, coordinated disinformation, professional misconduct, whistleblower reprisal, and explicit threats."
Elizondo says that the motivation behind Reid's behavior may stem, at least in part, from the fact that he was never informed of the AATIP program to begin with. "Since I could not trust [Reid], I never indoctrinated him into the program, and instead was working with echelons within the Department above him," said Elizondo.
"I was aware of his perceived misconduct and could not risk the integrity of the program by involving him," Elizondo continues. "Last I heard, he was coaching Pentagon Spokesperson, Susan Gough how to respond to inquiries by the media about me. This would explain the obvious inaccuracies provided to the media about me by Ms. Gough."
Although the DoD's UAP Task Force fell under the purview of the Office of Naval Intelligence, since Reid was in charge of the Defense Intelligence, Collection, and Special Programs Office he was also the principal executive overseeing UAPTF's investigations, and according to multiple defense officials he played a central role in obstructing their efforts. Furthermore, when the UAPTF was disbanded and the DoD formed the Airborne Object Identification and Management Synchronization Group (AOIMSG), Reid was named as the Group's Executive Secretary.
These issues are only a small part of the complaints, from both his subordinates and higher-ranking officials, against Reid, and it is unknown as to exactly why he was dismissed from his post. With this departure, it is expected that Director for Defense Intelligence (Warfighter Support) Air Force Major General Aaron Prupas will be named as head of the AOIMSG. If Reid was responsible for the roadblocks faced by formal UAP investigations, his exit may allow AOIMSG more latitude in investigating military encounters with UFOs.
Dreamland Video podcast
To watch the FREE video version on YouTube,
click here
.
Subscribers, to watch the subscriber version of the video, first log in then click on Dreamland Subscriber-Only Video Podcast link.