When Whitley Strieber had his cabin in upstate New York, he often had groups of friends up to see if it would be possible for them to encounter the visitors. On many occassions, extraordinary events took place.
One such event occurred in the Autumn of 1988. The Striebers' friends Raven Dana and Lorie Barnes had been staying at the cabin, and were awakened in the middle of the night, confronted by the physical presence of the visitors. The events are described in Strieber's book Breakthrough, and are the subject of a Dreamland special. (This special is not in our archive, which was started in 2004. It is from prior to that date.)
Click on each image to view an enlargement.
This is the cabin where Whitley Strieber experienced the December 26, 1985 close encounter that led to the writing of Communion and the long series of encounters and interactions with unknown beings that resulted in the further books Transformation and Breakthrough. The cabin is near Kingston, New York, and is situated in an area where there is a great deal of underground iron.

It was from this bed that Whitley was taken at approximately three in the morning of the 26th. He has never been certain what happened, except that the experience was far more vivid than any dream.

This circle of stones was built at the spot where Whitley's encounters first started. The circle of stones were later moved, due to vandalism.

This is the living room. In Transformation, Whitley related that he had taken one of his cats with him during an encounter situation, "for a reality test." He took the cat from the back of this couch.

The 'cabin group' having dinner together. Raven Dana, Lorie Barnes and a number of others are present. Most of these people were friends of Whitley and Anne's before the Communion experience. Many of the people at that table had close encounters at the cabin.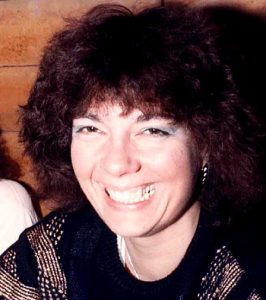 This is Raven Dana the morning after her encounter at the cabin. Her eyes are still swollen from her allergic reaction.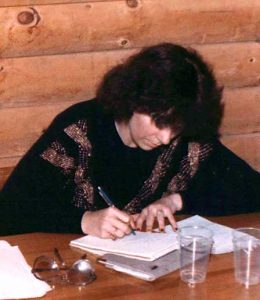 Raven is writing an account of her experience.

Lorie Barnes on the morning after her encounter.