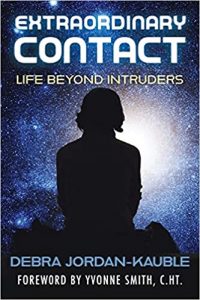 Debra Jordan-Kauble was the "Kathie Davis" of Budd Hopkins' classic book of abduction, "Intruders." Here, she joins Whitley for one of the most moving and inspirational editions of Dreamland that we have ever recorded. Whitley considers Debbie's new book a classic of its kind, and if this interview is any example of what it has to offer, that is an understatement! Debbie and Whitley have a long history together, and a lot of it was quite rocky during the period that Budd rejected Whitley and his idea that there might be more to the close encounter experience than the rough stuff, but they have both come to a new place in their lives, in their understanding of the close encounter experience, and their relationship. This beautiful interview is a powerful testament to that.
Listen as Debbie, who, like so many close encounter witnesses, was plunged into a very dark place by her early encounters, looks back on her journey from that darkness and fear into the wisdom that now fills her soul, and that is on offer in this MUST NOT MISS book!
You can reach Debbie on her website, DebsHome.com.
To get Extraordinary Contact, click here.
Dreamland Video podcast
To watch the FREE video version on YouTube,
click here
.
Subscribers, to watch the subscriber version of the video, first log in then click on Dreamland Subscriber-Only Video Podcast link.