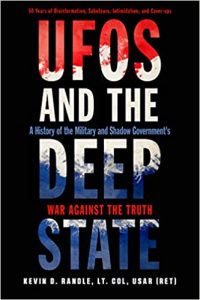 This week on Dreamland, we cover the REAL deep state and the UFO coverup as never before. The idea of the deep state has been discredited by extreme and unbelievable claims–almost as if an effort is underway to hide it behind a screen of absurdity. But a long-term effort to study the UFO/Close Encounter phenomenon in secret DOES exist, and there is overwhelming evidence that a very substantial hidden infrastructure really is in place, and that it is concealed behind a wall of secrecy.
Kevin Randle has been studying the UFO coverup for many years, and is without question one of the world's leading experts on the subject. In this interview, he goes deeper than he ever has before. You will come away better informed about the why of the coverup and what might be released over the next few years than ever before.
Don't miss this probing exploration of a subject that has been thoroughly obscured behind a tissue of lies. Get ready to meet the REAL deep state!
Kevin Randle's website is KevinRandle.Blogspot.com. To enjoy his podcast, A Different Perspective click here. To get UFOs and the Deep State, click here!
For subscribers, Whitley offers a video about an ancient sculpture that reveals a great secret about the human journey.
Dreamland Video podcast
To watch the FREE video version on YouTube,
click here
.
Subscribers, to watch the subscriber version of the video, first log in then click on Dreamland Subscriber-Only Video Podcast link.