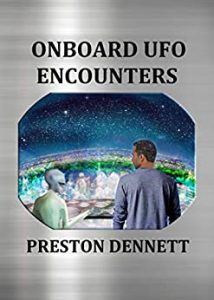 Author and researcher Preston Dennett is back to talk about his most recent book,
Onboard UFO Encounters: True Accounts of Contact with Extraterrestrials
. This powerful book is full of remarkable stories of deeply personal experiences with the UFO occupants. Preston speaks at length about this book as well as his research. The strangeness and similarities of the contact experience is explored, along with some surprising insights. Both Mike and Preston laugh a lot in this episode, making it a fun departure from the heavy-handed seriousness of UFO studies.
Find out more about Preston at his site, linked
HERE
.
Also, here's Preston's excellent interview with Whitley from just a few days ago on this same book, linked
HERE
.
Dreamland Video podcast
To watch the FREE video version on YouTube,
click here
.
Subscribers, to watch the subscriber version of the video, first log in then click on Dreamland Subscriber-Only Video Podcast link.