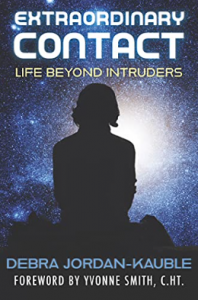 Debra Jordan-Kauble is the author of Extraordinary Contact: Life Beyond Intruders. This remarkable book goes far beyond the headlines and clickbait in this new era of UFO reporting. This book is her journey, and it plays out as remarkably hopeful.
Deb was the central figure in Budd Hopkins' important 1987 book Intruders: The Incredible Visitations at Copley Woods. She wrote her own book in 1995, but it's been out of print for years. Her new book is a powerful update, with a lot of new accounts and reflections. Much of this conversation is focused on the emotional and spiritual difficulties that surround the contact experience. Mike and Deb also talk about Budd Hopkins, someone they both knew well.
Whitley recently did an excellent interview with Deb on this same book, and the full-length version is available for non-members. This is essential listening, linked HERE.
Deb's website: DebsHome
You can get Deb's book HERE.
Budd's books, including the new reissues of Missing Time and Intruders, are linked HERE.
There is an excellent video of Deb telling her 1983 experiences, by Adnan Ademovic of UFO HUB, linked HERE.
Mike sat in a coffee shop in Brooklyn and did a drawing in his sketchbook, look closely at the book on the table. Image from 1996
Dreamland Video podcast
To watch the FREE video version on YouTube,
click here
.
Subscribers, to watch the subscriber version of the video, first log in then click on Dreamland Subscriber-Only Video Podcast link.