Archived podcast for paid Subscribers only. Please login to access.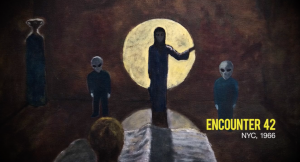 Brad Abrahams is a documentary filmmaker and commercial director from Canada, currently based in the USA. We discuss his documentary LOVE AND SAUCERS, the powerful story of David Huggins, an unassuming 72 year-old who claims to have had a lifetime of encounters with otherworldly beings. At the heart of his experiences is an inter-species romance with a gray female being named Crescent. David has chronicled his memories though an haunting series of paintings.
You can find the Love and Saucers online here:
https://www.loveandsaucers.com
Dreamland Video podcast
To watch the FREE video version on YouTube,
click here
.
Subscribers, to watch the subscriber version of the video, first log in then click on Dreamland Subscriber-Only Video Podcast link.