Archived podcast for paid Subscribers only. Please login to access.
This week we hear from "James" who is not only a corroborating witness to the Tehran, Iran UFO Incident of 1976, but also of the amorphous colored shapes Jeff Ritzmann photographed in his hallway. How is this possible? Why, because he's an experiencer, of course!
These are the two anomalies photographed by Jeff that will be discussed on this show: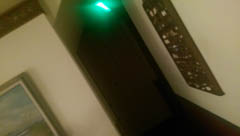 Dreamland Video podcast
To watch the FREE video version on YouTube,
click here
.
Subscribers, to watch the subscriber version of the video, first log in then click on Dreamland Subscriber-Only Video Podcast link.