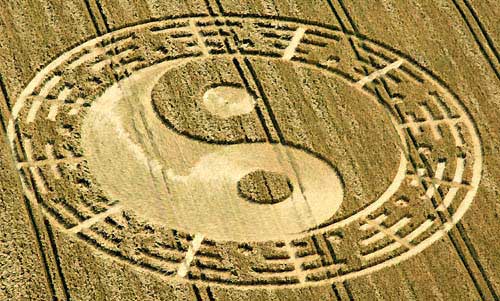 This week we return to Whitley Strieber's astonishing Crop Circle Meditation Series, that uses crop circles in a whole new way. He delivers his sixth of nine meditations, and it is a wonderful companion to the interview with Wayne Dyer, because this meditation series is also about changing our thought patterns–in this case by using the very Yin-Yang symbol that is also at the heart of the Tao.
Whitley tells us, "I had no idea that this meditation would be about the same subject that Wayne is addressing. It's an unexpected and wonderful synergy."
Many of our subscribers have written about their experiences with these mediations, which have been profound indeed, even to the point of being life changing. Click on the image for a larger version of the pattern to use during the meditation.
Dreamland Video podcast
To watch the FREE video version on YouTube,
click here
.
Subscribers, to watch the subscriber version of the video, first log in then click on Dreamland Subscriber-Only Video Podcast link.