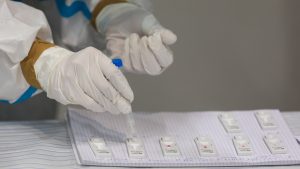 The spread of COVID-19 in mainland China has become "impossible" to track, according to the country's top health authority, with case numbers rising precipitously since the end of October, prompting local health authorities to abandon their recording of asymptomatic cases as part of their daily counts. This new wave of cases comes as China's government abandons its strict zero-COVID policy after nationwide protests against the punitive lockdowns swept across the country.
This current wave is causing a new crisis for China's health care system as clinics and hospitals are being overwhelmed by COVID-19 cases, prompting health authorities to urge people to avoid seeking emergency health care unless absolutely necessary; along with this, the government has announced the rollout of a second round of vaccine boosters that will be available for vulnerable and elderly citizens. Adding to the crisis is an acute shortage of cold pharmaceuticals, particularly the COVID-19 medication Paxlovid; the scarcity of the oral treatment has prompted a black market to spring up where the medication is being sold for highly inflated prices.
Along with the ending of the sweeping lockdowns that resulted in entire cities where millions of individuals were confined to their homes—including the 25 million people caught up in the city-wide lockdown of Shanghai earlier this year—the end of the government's zero-COVID policy also means that mass-testing drives and compulsory COVID testing have ended, resulting in increasingly inaccurate daily reports. The national health commission (NHC) has also announced that it will no longer be recording reports of asymptomatic cases.
"Many asymptomatic patients no longer participate in nucleic acid testing," according to a NHC statement. "It is impossible to accurately grasp the actual number of asymptomatic infections."
Despite the lack of testing, symptomatic cases of COVID-19 are spreading rapidly, especially in Beijing, with state media reporting a six-fold increase in patients seeking help at hospitals, and 16 times more visitors at fever clinics.
The actual situation may be even worse than what is being described by authorities: stories on social media paint a picture of widespread infection, with employees of businesses, schools and even embassies describing large numbers of co-workers being at home either to care for a family member sick with the virus, or being infected themselves.
"It's deeply frustrating. Businesses are having to close due to staff being sick, even though they can legally be open," according to a managing director at the Canada-China Business Council, Noah Fraser.
In early November a series of protests against China's zero-COVID policy started, after a child died due to a lockdown-related delay in being treated for an injury; over the course of the month the demonstrations spread across the country, leading to public confrontations with police and censorship of news of the protests. This censorship led to the movement being called the White Paper Protests, after demonstrators began using blank signs and placards to protest the censorship they were facing.
These protests led to the easing of the zero-COVID policy, announced on December 7; infected individuals could now quarantine at home instead of being detained in a hospital or mass quarantine facility for the duration of their confinement, and the requirement for a negative COVID test to use public transit or public spaces has been lifted. There are fears that the easing of these health measures may allow the disease to spread even faster, especially in light of the relatively low vaccination rate amongst Chinese citizens, especially amongst the elderly.
"It feels quite bizarre actually, they've gone from 100 to zero it seems," one Guangzhou resident remarke. "I think people are [still] concerned about catching COVID as there are less people out than normal I've observed."
Image Credits:
News Source:
Dreamland Video podcast
To watch the FREE video version on YouTube,
click here
.
Subscribers, to watch the subscriber version of the video, first log in then click on Dreamland Subscriber-Only Video Podcast link.