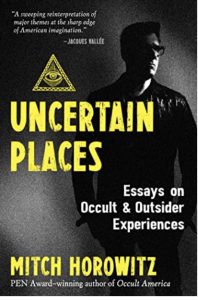 Mitch Horowitz joins Whitley for an absolutely great discussion about things like Mitch's near encounter with an "alux" in the jungles of Belize (similar to what Alan Lamers encountered on Sulaweisi) to receiving an electric discharge from a vividly painted bas-relief of a bull in a forbidden chamber beneath the Valley of the Kings–and yes, there's more! Join Whitley and Mitch for a wild and wonderful discussion that ranges from the rise of Wicca to the mystery of Shrodinger's Cat and, along the way, a whole lot about what it means to be truly human, truly alive and eager for more! Ends with one of those magnificent Anne Strieber quotes!
You're going to love this puppy!
Visit Mitch at MitchHorowitz.com. Want to go on a real trip to real places that aren't supposed to be there? Get Uncertain Places, click here!
Subscribers, dig deeper into some of the most fabulous Mitch Horowitz interviews anywhere. Whitley and Mitch ROCK! Click here.
Not a subscriber? WHAT ARE YOU WAITING FOR?? Whitley is one of the all time great podcasters, so join the fun! Click here to find out more.
Dreamland Video podcast
To watch the FREE video version on YouTube,
click here
.
Subscribers, to watch the subscriber version of the video, first log in then click on Dreamland Subscriber-Only Video Podcast link.