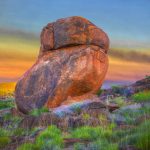 In this week's Dreamland, Whitley speaks first to Eric Saethre, an anthropologist who discovered while living in a remote Aboriginal community that they often saw UFOs. While they weren't afraid of them, they would warn non-native people that they could get abducted and if that happened, that they would never come back. Eric also discovered that UFO sightings in the area were confined to just one community. Listen as he tells of his eye-opening discoveries.
Then, Whitley interviews contactee "Mike" (Not Mike Clelland) about his own shocking UFO experiences. Mike's interview will also be archived in our Contactee Section.
This edition of Dreamland starts with the adventures of an anthropologist who takes no position on UFOs himself, but finds a remarkable situation in a remote area that has never been visited by investigators before. While the local people have plenty of media access and so aren't unfamiliar with alien and UFO stories, there are also elements of the situation that link it in ways the locals probably could not know, to some of the most consistent features of not only the UFO story, but the fairy-faith that preceded it.
"Mike's" story, which is an in-depth report by a direct encounter witness, takes us on an extraordinary high-strangeness adventure.
The image is of one of the "Devil's Marbles" in the Australian Northern Territories. © Brett Andersen | Dreamstime.com
Dreamland Video podcast
To watch the FREE video version on YouTube,
click here
.
Subscribers, to watch the subscriber version of the video, first log in then click on Dreamland Subscriber-Only Video Podcast link.