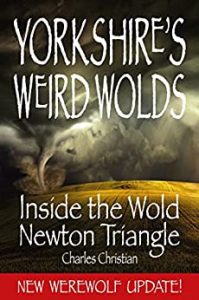 This week we take a detour into the darks of the Yorkshire Wolds and ultra high strangeness that stretches back into the deep past. Or no, wait a minute, that's the sort of thing we do almost every week–and it's usually great fun, and this week that is SUPER-TRUE. Guided by a deeply knowledgeable expert, Charles Christian, we adventure into a region renowned for its strangeness. The show starts off with Whitley describing a time that he and Anne got lost in the fog in the area, and goes deeper from there, covering Charles's extensive research that goes back all the way into the mists of time. We learn about all sorts of little-known topics such as medieval werewolves and the extraordinary secret of dragons!
Dreamland at its summer fun best!
Visit Charles on his website, UrbanFantasist.com. Take a virtual tour of the Weird Wolds by getting his terrific guide to the region. Click here!
Dreamland Video podcast
To watch the FREE video version on YouTube,
click here
.
Subscribers, to watch the subscriber version of the video, first log in then click on Dreamland Subscriber-Only Video Podcast link.