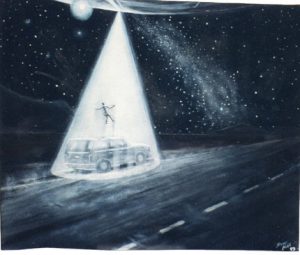 Last week, we listened as Preston Dennett described his new book Onboard UFO Encounters. Two of the most extraordinary cases were those of Dolly and Lynette. So, this week Whitley interviews them both in this special 2 hour edition of Dreamland, and it is riveting, unforgettable stuff. Anybody who could come away from this thinking for one second that Dolly and Lynette are either
delusional or making their stories up has a tin ear when it comes to knowing whether or not a person is telling the truth.
For this special event, Dreamland's free listeners get the full show.
First up is Dolly, who, like Whitley and so many other close encounter witnesses, had a relative in the military. Not only that, around age 8, she also began having Secret School experiences. Her contacts continued into adulthood, and her story, told here very frankly, is powerful listening indeed.
Like so many witnesses, our next interviewee, Lynette, also had encounters from an early age. She experienced a disappearing pregnancy, and in this haunting interview, she and Whitley go very deep into how they miss the children they feel have been taken from them.
This whole show is unforgettable–by turns fascinating, uplifting and heartbreaking. Don't miss a single word of the powerful testaments of these two close encounter witnesses.
Read Onboard UFO Encounters now–click here to order. Visit Preston Dennett on his website. Click here.
Image courtesy of Steve Neill.
Dreamland Video podcast
To watch the FREE video version on YouTube,
click here
.
Subscribers, to watch the subscriber version of the video, first log in then click on Dreamland Subscriber-Only Video Podcast link.