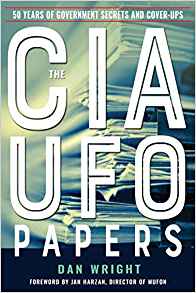 Longtime UFO investigator Dan Wright joins us to discuss his new book, The CIA UFO Papers–and proceeds to start off with two of the most spectacular PERSONAL UFO encounters ever talked about on this show! Whitley asks him why he first got interested in UFOs (He's been in MUFON since 1978) and received a truly amazing answer to that question that starts with his father's close up UFO sighting and ends with his own amazing story. At one point, Dan comments, "It's been an interesting life." Oh, yes!
Then they delve into the book itself, and it turns out that, buried in the mass of hundreds of thousands of documents that the CIA was forced to dump into the public sector in 2014, there is some real gold. They were concerned about UFOs, all right. Deeply concerned. Fascinatingly, as Dan reveals on the show, the nature of the relationship between us and our visitors has changed and evolved over the years, and the things that the CIA studied between 1947 and the present reflects the evolving nature of contact.
Altogether fascinating!
Get this terrific book through us! Click here.
NEXT WEEK ON DREAMLAND: Jimmy Church on To the Stars Academy and the CIA.
You can listen to free Dreamland on Alexa (Alexa Play Dreamland), Apple Podcasts, Tune-In Radio and the Paranormal Podcast App
Dreamland Video podcast
To watch the FREE video version on YouTube,
click here
.
Subscribers, to watch the subscriber version of the video, first log in then click on Dreamland Subscriber-Only Video Podcast link.