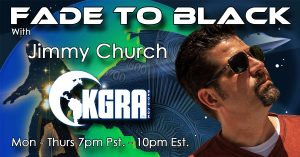 Jimmy Church, host of Fade To Black, joins Whitley in an about face: Whitley does the interviewing, Jimmy does the talking!
Last week, thanks to Jimmy and John Greenewald of the Black Vault, the US Navy announced that the videos released through To The Stars in late 2017 and carried in important media around the world were, in fact, of unknown objects. In the early stories, Luis Elizondo, a counterintelligence expert said to have been working for the the Undersecretary of Defense for Intelligence had released the videos. But now he has disappeared from the story. (There are even stories claiming that he never worked for the Pentagon at all, but if not, then where did he get classified Navy videos??) Instead, TTSA acting CEO Tom DeLong is being portrayed in the media as having released them.
SO, what's going on? How did a rock and roller end up as the head of an organization which is concerned with UFOs and appears to be run almost exclusively by intelligence personnel? What are their motives? What can we expect from them? Listen as Jimmy digs deeply into the relationship between the intelligence community and TTSA.
Free Dreamlanders will get the full show this week (with commercials, sob!) Want to keep us going? Of course you do, because Dreamland and UC are unique in the world, a website and podcasts by close encounter witnesses and for close encounter witnesses and everybody who is interested in this phenomenon as seen from the perspective of the people who actually have visitor contact. To explore our inexpensive subscription options, click here.
Dreamland Video podcast
To watch the FREE video version on YouTube,
click here
.
Subscribers, to watch the subscriber version of the video, first log in then click on Dreamland Subscriber-Only Video Podcast link.