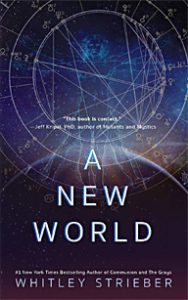 Jeremy Vaeni returns to Unknowncountry, this time hosting Dreamland in order to discuss A New World with Whitley. And what a discussion it is! Jeremy brings his deep knowledge to what turns out to be one of the most powerful discussions either host has ever participated in. With all his years of experience as a close encounter witness and researcher, Jeremy knows the questions to ask that others don't, with the result that this is among the most exciting and penetrating interviews we've ever posted on this site.
You may think that you've already heard everything Whitley has to say about A New World, but he hasn't had to deal with too many questions this deep and this frank. Tremendously exciting stuff, and a real window into the meaning of the visitors and what conscious contact is likely to entail.
This show is presented without commercials and is fully available to all listeners.
Get A New World today.
Get the paperback on Barnes&Noble.com or Amazon.com. Get the eBook on Amazon.com, BN.com, Kobo.com or for Apple books search the Apple Books app.
Next week on Dreamland its our Christmas-New Year's Special: Scientists Deep Prasad and Ed Belbruno tell of their close encounter experiences and for subscriber Linda Moulton Howe reveals her findings after years of researching the mysterious bismuth-magnesium material that is now in the hands of TTSA. Then the first week of the new year brings John Hogue! Get set for a great 2020 on Dreamland and Unknowncountry.com!
Dreamland Video podcast
To watch the FREE video version on YouTube,
click here
.
Subscribers, to watch the subscriber version of the video, first log in then click on Dreamland Subscriber-Only Video Podcast link.