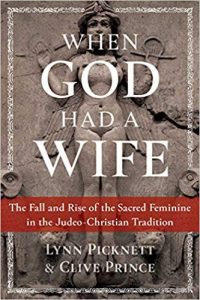 This week we explore the nature of God with two experts on the history of religion, Clive Prince and Lynn Picknett. They are the authors of many books about the hidden past of religion, among them The Templar Revelation which inspired the DaVinci Code and the book we're talking about today, When God had a Wife. Their thesis is that in very ancient times the religion practiced in the temple at Jerusalem involved two deities, Yahweh, the male god and the goddess Anat.
From there, we explore the nature of modern worship. Should we limit ourselves to male deities such as the western God and the Islamic Allah? Or should gender be involved in worship at all? Is God part of sexuality and therefore sexual politics, or something deeper. If so, then why does sexuality play such an important part in religion. In the third half-hour of the show for our subscribers, we open up these intimate questions and take a deep dive into the whole issue.
Visit Lynn and Clive at PicknettPrince.com. To get When God had a Wife click here. To get Whitley's new book A New World, click here.
Also for subscribers, Whitley reads an excerpt from A New World and offers a commentary on it. This will appear early next week.
Next week, Dreamland will feature Marie D. Jones on the meaning of 11:11, then on December 20, we have an extraordinary Christmas special based around one of the main themes of A New World: scientists who are in contact with the visitors and using information that they are gaining from them in their work.
Dreamland Video podcast
To watch the FREE video version on YouTube,
click here
.
Subscribers, to watch the subscriber version of the video, first log in then click on Dreamland Subscriber-Only Video Podcast link.