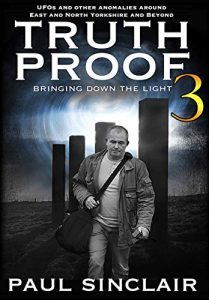 Yorkshireman Paul Sinclair is back with us on Dreamland, fresh from more adventures in the extreme high strangeness regions of east and north Yorkshire. Join us on a journey along foggy cliffs and down into haunted tunnels beneath an "abandoned" RAF base where Satanic symbols cover the walls. UFOs bigger than battleships, terrifying creatures haunting the moors–it's all here in this show AND in Paul's expertly researched Truth Proof 3.
Paul is the kind of researcher we love on Dreamland. He doesn't just sit in a room reading, he gets out and walks the paths of strangeness and interviews the witnesses…and on the way has some extraordinary adventures himself.
Visit Paul at TruthProof. Go to his YouTube Channel.
Dreamland Video podcast
To watch the FREE video version on YouTube,
click here
.
Subscribers, to watch the subscriber version of the video, first log in then click on Dreamland Subscriber-Only Video Podcast link.