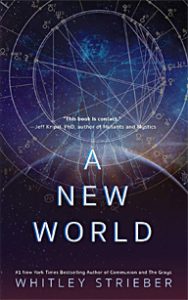 Our interviewer this week is Josh Boone is the director of The Fault in Our Stars, The Stand Mini-Series to be released on CBS later this year, and New Mutants, to be released in theaters in 2020. He is also producing, writing and directing a series based on Whitley's life for a major network that is expected to be released in 2020.
In this episode of Dreamland, Josh interviews Whitley about A New World. Josh has read all 7 drafts of the book as well as all of Whitley's other works, so this is a very searching interview. Then, for subscribers, Whitley first reads what he regards as a crucially important question from a subscriber about how to cope with the dark side, which is explored in A New World, and then responds to with a deep dive into what the dark side really is and how to transform it into something that makes you stronger rather than eating away at you.
You can get A New World in paperback and for Kindle on Amazon. The Audible audiobook read by Whitley should be available in a few days. To get A New World, click here.
Dreamland Video podcast
To watch the FREE video version on YouTube,
click here
.
Subscribers, to watch the subscriber version of the video, first log in then click on Dreamland Subscriber-Only Video Podcast link.