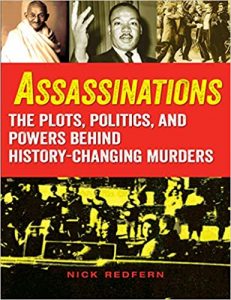 Everywhere you look in the general media, the mantra is the same: there is no such thing as a conspiracy and anything suggesting that the conventional explanation is not sufficient is a "crackpot conspiracy theory." And yet, more than a few close encounter witnesses and UFO investigators have had direct experience of things like the much joked about men in black.
But this show isn't about those fairly benign figures, whoever they are. It is about a group of assassinations that changed our world and the loose ends that just plain have never been tied up.
James Forrestall, Dorothy Kilgallen, Marilyn Monroe, JFK, Bobby Kennedy, Martin Luther King, John Lennon: the deaths of the group of people effectively changed our world. Between the first death and the last, we went from being a free country to a country that only appears to be free.
What really happened and why?
Dreamland's old friend and frequent guest Nick Redfern has some ideas…
Get Assassinations through us. Click here.
Explore Nick Redfern's World of Whatever.
Dreamland Video podcast
To watch the FREE video version on YouTube,
click here
.
Subscribers, to watch the subscriber version of the video, first log in then click on Dreamland Subscriber-Only Video Podcast link.