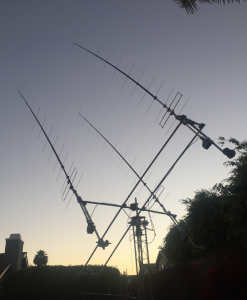 The public is about to be told that the US military has recorded far more UAP sightings, as they now call them, than has previously been admitted. It looks like they're going to continue to say that they don't know what they are. So where does that leave people who are in contact with the visitors? Will they continue to be ignored, or perhaps discredited, or will they begin to be more accepted as what they are: normal human beings who have had contact of some kind that does not fit the normal paradigm and is often associated with the same sort of objects that the government calls UAPS?
What we are going to do here on UC is to continue to follow along with the visitors, who seem to be opening the door to contact more and more.
In that vein, this week Whitley welcomes radio expert Jimmy Blanchette to discuss and demonstrate radio-based methods he has used to engage in contact with these unknown presences. Radio is not the foundation of his relationship with them, but is the way he contacts them. It is used for verification, not communication.
He has provided us with video of the results of many of his efforts, which is available as a special in the subscriber area. (If you would like to view this and cannot afford a subscription, please email subscribers@unknowncountry.com for access.)
Jimmy's website is KK6FAH.com. (His ham radio call letters) The image above is the self-designed deep-space radio transmission antenna discussed in the show.
A simple two-way radio called a Baofeng BF8RT is used in Jimmy and Whitley's experiments. (Other models or brands will probably work just as well, but this is the one that has been used.) In the US, if you are interested in transmitting on any band outside of the allocated family 2-way radio channels, you will need a license to transmit. You can get a license from the FCC here. Other countries have different family radio channels and licensing practices. Be sure to follow the rules in your country.
The software used to transform images into sound mentioned in the show is Photosounder. To use this to transmit text, create the text on your computer, then take a screenshot of it and transmit the screenshot with Photosounder.
Dreamland Video podcast
To watch the FREE video version on YouTube,
click here
.
Subscribers, to watch the subscriber version of the video, first log in then click on Dreamland Subscriber-Only Video Podcast link.