Archived podcast for paid Subscribers only. Please login to access.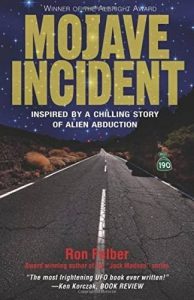 You have probably never heard of the Mojave Incident–until now. An hours long, conscious abduction event researched at a very high level. One of the most amazing shows in Dreamland's history.
Some years ago Elise and Tom Gifford had a phenomenal close encounter. They were both wide awake and side by side during the first hours of the experience. There followed a day-long encounter of great terror and power, during which they were made to relive the most difficult and intimate experiences of their lives.
Through author Ron Felber, who first heard their story from a mutual friend, they were diagnosed and evaluated not by UFO hypnotists, but at a prominent psychiatric institute. They were also given polygraphs. The verdict reached at the institute was the same as that reached by famed Harvard Psychiatrist when interviewing other such witnesses: they believe that this happened to them. It was no fantasy and no lie.
Prepare yourself. Listen. Learn. Wonder.
Ron Felber's website is RonFelber.com
Dreamland Video podcast
To watch the FREE video version on YouTube,
click here
.
Subscribers, to watch the subscriber version of the video, first log in then click on Dreamland Subscriber-Only Video Podcast link.