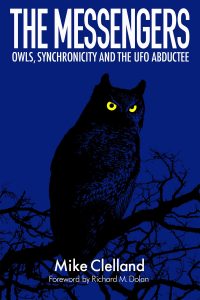 Author Richard Dolan said this about The Messengers:
"I would characterize very few UFO books as beautiful, but this one is."
The owl has held a place of reverence and mystique throughout history. And as strange as this might seem, owls are also showing up in conjunction with the UFO experience. Mike Clelland has collected a wealth of first-hand accounts in which owls manifest in the highly charged moments that surround alien contact. His book explores the owl's connection to the UFO experience. It also includes profound synchronicities, ancient archetypes, dreams, shamanistic experiences, personal transformation, and death. From the mythic legends of our ancient past to the first-hand accounts of the UFO abductee, owls are playing some vital role.
This episode features a full chapter from the upcoming audiobook The Messengers. It's read by voice artist Michael Hacker, who has also read audiobooks by John Keel and Brad Steiger.
Dreamland Video podcast
To watch the FREE video version on YouTube,
click here
.
Subscribers, to watch the subscriber version of the video, first log in then click on Dreamland Subscriber-Only Video Podcast link.