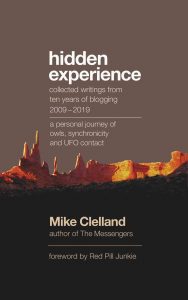 Mike Clelland said this about his latest book: "I wrote about the most difficult time of my life as it was happening, and posted it on a blog. I'd been confronted with a chain of strange events that seemed impossible to understand. I tried to dismiss what was happening, but all the clues pointed to one thing, and I was forced to ask myself, 'Am I a UFO abductee?' I started writing ten years ago as an attempt to answer that question."
In this episode, Mike will be sharing audio excerpts from his new book.
Those blog posts defined a transformative chapter of his life. They are now in a book titled
Hidden Experience
, subtitled
Collected writings from ten years of blogging 2009—2019, a personal journey of owls, synchronicity and UFO contact
. The paperback and eBook is linked
HERE
.
Dreamland Video podcast
To watch the FREE video version on YouTube,
click here
.
Subscribers, to watch the subscriber version of the video, first log in then click on Dreamland Subscriber-Only Video Podcast link.