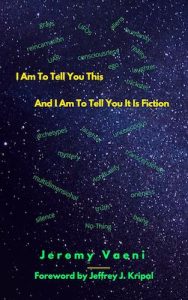 In this solo show, host Jeremy Vaeni continues to answer listener questions. First, though, he has a heart to heart with listeners about why he is strongly considering leaving the show and ufology for good, literally and figuratively.
For a thorough and riveting historical look at the insurrection, please watch American Rule: How A Nation Conquered The World But Failed Its People author, Jared Yates Sexton's, brilliant Youtube breakdown.
To read more about the self and the universe, check out Vaeni's latest book, I Am To Tell You This And I Am To Tell You It Is Fiction.
Dreamland Video podcast
To watch the FREE video version on YouTube,
click here
.
Subscribers, to watch the subscriber version of the video, first log in then click on Dreamland Subscriber-Only Video Podcast link.