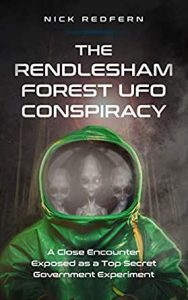 We may never know what really happened during the infamous Rendlesham Forest Incident, but with Nick Redfern's new book,, the plot just thickened.
Was it a UFO incident? A psychological experiment? How certain is Nick of anything? We'll talk about that and more–A LOT more!
The Rendlesham Forest UFO Conspiracy: A Close Encounter Exposed as a Top Secret Government Experiment is available on Amazon HERE.
Also, check out Nick's Martians: Evidence of Life on The Red Planet HERE.