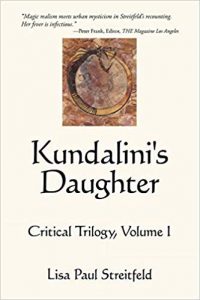 Art critic and performance artist Lisa Paul Streitfeld underwent a transformative awakening at her father's funeral in 1983. For the next twenty-five years, she traversed the globe–and her very soul–on the mystical trail of Kundalini pioneer Harold S. Streitfeld.
En route, she became a conduit for the collective consciousness, delivering a new mythology that portends a new state of balance, equality and hope for humanity.
Listen as she tells Mia her story. Explore her extraordinary life at LisaPaulStreitfeld.com.
Dreamland Video podcast
To watch the FREE video version on YouTube,
click here
.
Subscribers, to watch the subscriber version of the video, first log in then click on Dreamland Subscriber-Only Video Podcast link.