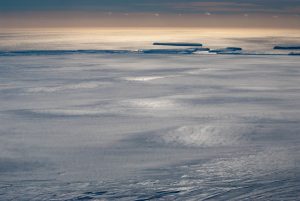 A new report published by the National Academy of Sciences is warning that glaciers in Antarctica may have already reached a tipping point that will continue to see the destabilization of its ice sheets, even if rising global temperatures were to stop immediately, a development that could significantly accelerate the continued rise in global sea levels.
"Due to our past changes in climate there is a certain amount of sea level rise that will definitely occur in the future," explains study co-author Alex Robel, a glaciologist and assistant professor at the Georgia Institute of Technology.
Focusing on the rapidly-accelerating melt of the Thwaites glacier, Robel's team measured the likely outcomes of melting of Antarctic ice. It was revealed last summer that Antarctica's ice sheets are melting three times faster than they were the decade before, with the massive Thwaites and Pine Island glaciers being among the two hardest-hit ice sheets on the continent. And earlier this year, huge Manhattan-sized chasms were discovered underneath Thwaites, caused by melting from beneath the disappearing mass of ice.
"It's definitely distressing on a human level to think or realize the fact that there is a certain amount of not going back in terms of sea level rise that we've already committed ourselves to in the future," Robel continues, regarding the possibility that many of Antarctica's ice sheets may have already reached their tipping point. Although Antarctic ice loss may be inevitable, we still have the power to affect how rapid this ice loss is, and according to Robel, "our future actions can significantly change how much sea level rise will occur in the future."
The report found that the amount of ice flowing out of the Thwaites glacier has nearly doubled in the last 30 years, dropping 35 billion tons of ice per year between 2009 and 2017 alone. "That's a 3 percent contribution that wasn't there 45 years ago," according to British Antarctic Survey marine geophysicist Robert Larter.
Sea levels are currently rising at 3.3 millimeters per year, and overall the Thwaites glacier contributes to about four percent of that total. Roughly the size of Florida, Thwaites holds enough ice to raise ocean levels by a little over 2 feet (65 centimeters) if it were to melt entirely.
Thwaites also supports a number of neighboring glaciers that would represent an additional 8 feet (2.4 meters) of sea level rise–glaciers that would be under an increased threat of collapse if Thwaites itself were to slide off into the ocean. "If you have collapsed a whole glacial system then you're creating a new front on the other glacial systems that were bordered to it. Things certainly won't stop there," Larter adds.
Despite Thwaites' crucial role in the stability of the network of glaciers that surround it, it wasn't actually the biggest looser when it came to ice melt, with the Ronne and Pine Island glaciers shedding 150.7 billion tons and 137.3 billion tons of ice in 2017, respectively; Thwaites was close behind, dropping 119.7 billion tons in the same year.
Aside from the possibility of having passed a point of no return for glacial melt, the report also illustrates that increasing instability in the ice sheets themselves increases the difficulty in forecasting the rate of sea level rise. "The more this marine ice sheet instability occurs, the wider the range of possible future sea level rise becomes," Robel explains. "Not only that, but that range will start to skew towards scenarios of more rapid sea level rise."
These wildcards underscore the importance of on-the-ground scientific expeditions to measure what's actually happening in Antarctica in the present, to help keep future forecasts on track.
"Part of the aim of what we're doing as scientists is trying to constrain the uncertainties and give better predictions, but in some ways the more we're finding out the more uncertainties we're discovering," Larter says, having participated in scientific expeditions with the International Thwaites Glacier Collaboration.
Image Credits:
News Source:
Dreamland Video podcast
To watch the FREE video version on YouTube,
click here
.
Subscribers, to watch the subscriber version of the video, first log in then click on Dreamland Subscriber-Only Video Podcast link.