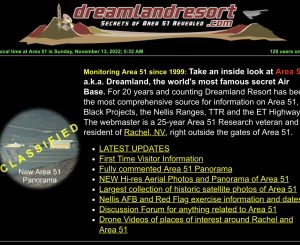 Federal agents executed a "no-knock" warrant on the properties of the operator of a popular Area 51 website, Dreamlandresort.com, on November 3, causing extensive damage to his personal property and seizing his computer and recording equipment. The site's owner, Joerg Arnu, reports that although he was told that the raid had to do with images posted on his website, he has been told little else, leaving Arnu to speculate as to what the offending material might have been.
On his website, Arnu posted news of the raid, a joint operation conducted by Federal Bureau of Investigation and Air Force Office of Special Investigations agents, who served a "no-knock" warrant simultaneously on his properties in Las Vegas and Rachel, Nevada. The agents detained Arnu, who was at his home in Rachel, and his girlfriend, who was at Arnu's Las Vegas residence, in what Arnu describes as "the most disrespectful way."
According to Arnu, both properties were searched by "15-20 agents in full riot gear, causing further damage in both homes." The agents seized all of his "laptops, phones, backup drives, camera gear" and his drone. "Even my phone was taken, leaving me in Rachel with two broken doors and no way to communicate or call for help," Arnu posted, who also stated that both he and his girlfriend were unarmed at the time of the raid.
Arnu reports he was told that the reason for the search was "related to images posted on my Area 51 web site;" his queries with the FBI have gone largely unanswered, and the copy of the warrant he received has "40 pages missing" and states that "the case records are sealed," leaving him with no indication as to what material the Air Force and FBI were looking for; to that end, Arnu has removed a number of images from Dreamlandresort.com that he suspects may have been the cause of the problem.
"To the best of my knowledge I have not broken the law," Arnu said in a November 7 post on his website. "The search warrants are not very specific but aerial photos of Area 51 and other installations came up repeatedly. So I have taken those down for now to defuse the situation."
In addition to his Dreamlandresort.com website, Arnu has also appeared in a number of documentaries on Area 51, including episodes of the History Channel's Ancient Aliens and America's Book of Secrets.
Dreamland Video podcast
To watch the FREE video version on YouTube,
click here
.
Subscribers, to watch the subscriber version of the video, first log in then click on Dreamland Subscriber-Only Video Podcast link.