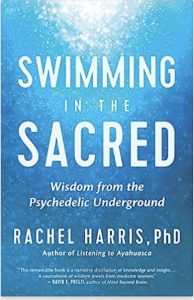 Psychologist Dr. Rachel Harris joins Whitley for a discussion of plant medicine and the women who guide explorers on the profound journey involved in its use. We get deep into Rachel's own journey in the world of plant medicine, exploring the plants not only from the viewpoint of how they affect brain chemistry, but also of what they mean as teachers and guides into the hidden world of nonphysical consciousness.
And who are these guides, and why are most of them women? The exploration of this fascinating question begins with a discussion of the ancient Greek mysteries that were practiced at Eleusis and organized and guided by women. There is an open and frank discussion about the difference between male and female energy, and the important roles that both play in the inner journey both of guides and initiates.
And–as happens so often on Dreamland–another, unexpected guest joins the conversation. Who is this guest? Well, it's not a person…or is it? Rachel and Whitley are joined by a marvelous tree, which offers some surprising wisdom in what turns out to be a startlingly powerful, delightful and unusual show.
Visit Rachel at SwimmingintheSacred.com. To get her book, go to SwimmingintheSacred.com or order it from us here
Dreamland Video podcast
To watch the FREE video version on YouTube,
click here
.
Subscribers, to watch the subscriber version of the video, first log in then click on Dreamland Subscriber-Only Video Podcast link.