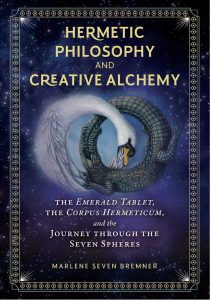 Marlene Seven Bremner joins us for the first time, bringing with her truly astonishing knowledge of the hidden secrets of spiritual alchemy and how understanding and using them can change our lives and prepare us for the little-understood reality of what happens after death. Seven's book, Hermetic Philosophy and Creative Alchemy is one of the most powerful and clearest discussions of this notoriously difficult written in modern times, and in this interview she describes the inner truth and power of the alchemical journey of life with great clarity.
For anybody wanting to understand the journey of the soul and make their own truly meaningful, this show is a must listen and this book is a must read. Seven is also a brilliant artist, and her modern take on alchemical art is extremely powerful and meaningful. Be sure to explore it on her website, as it offers vivid nonverbal connection to deep alchemical concepts.
The book goes much deeper than any interview ever could, of course, and offers an understandable path of self-initiation into the traditionally solitary spiritual journey of alchemy. Whitley, who has been on such an inner path for his entire adult life says "this is a real introduction to alchemy, written by an accomplished master. It offers the searcher a serious and useful foundation for further study of this powerful craft. A lifetime in alchemy will indeed transform base metal into gold, in the laboratory of your own being."
Visit Seven on her website, MarleneSevenBremner.com. To view the Transfiguration of Thoth discussed in the show, click here. If you want to start on the journey of alchemy, you must get Hermetic Philosophy and Creative Alchemy. Click here to order through us.
Not an Unknowncountry subscriber? This website is unique in the world and uniquely valuable. To help keep it going, click here.
Dreamland Video podcast
To watch the FREE video version on YouTube,
click here
.
Subscribers, to watch the subscriber version of the video, first log in then click on Dreamland Subscriber-Only Video Podcast link.