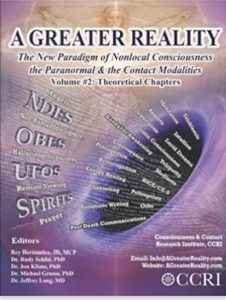 Rey Hernandez is one of the greats of the UFO world, and this is his first visit to Dreamland since 2018! Here, he talks about his incredible background, how he got pulled into the close encounter experience and why he has been working so hard at it ever since.
Rey is currently the Director of the Consciousness and Contact Research Institute, or CCRI, an academic research institute comprised of more than 25 Ph.D. academics, medical doctors, and researchers whose mission is to explore a new paradigm that seeks to integrate the findings of consciousness research and the phenomenology of extraordinary experiences, what Rey coined in 2013 as the "Contact Modalities".
Don't miss this unforgettable discussion between Rey and Whitley. Amazing insights throughout!
Visit Rey and learn more about his work at A Greater Reality.com.
Get A Greater Reality from us. Click here. (This book is incredibly informative, a real treasure.)
Dreamland Video podcast
To watch the FREE video version on YouTube,
click here
.
Subscribers, to watch the subscriber version of the video, first log in then click on Dreamland Subscriber-Only Video Podcast link.