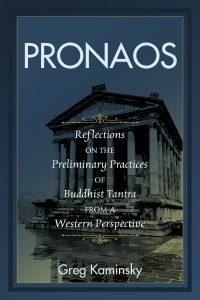 Greg Kaminsky is a scholar of medieval studies and one of the most thoughtful occult and paranormal podcasters out there. Now, he brings great care to Buddhist literature with his first book, PRONAOS: Reflections on the Preliminary Practices of Buddhist Tantra from a Western Perspective. In the first half of the show, Greg will give us the vital steps we need to take to understand Truth and ourselves through the Vajrayana Buddhist path. In the second half, for subscribers, the conversation takes a surprising turn when Greg reveals an astonishing UFO encounter he had in 1990. This leads to a discussion about how spiritual and paranormal experiences compare. Do NOT miss this one!
To order Pronaos, please visit: https://www.amazon.com/PRONAOS-Reflections-Preliminary-Practices-Perspective/dp/B08WZHBQDF
Visit Greg on the web: www.occultofpersonality.net
Contact him directly: brothergreg@protonmail.com
Dreamland Video podcast
To watch the FREE video version on YouTube,
click here
.
Subscribers, to watch the subscriber version of the video, first log in then click on Dreamland Subscriber-Only Video Podcast link.