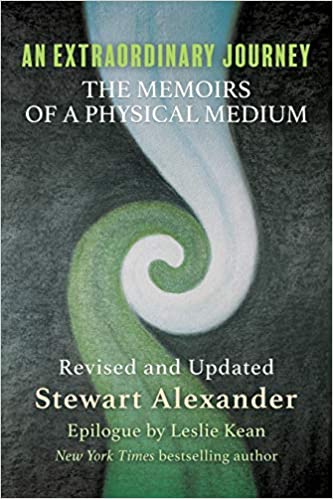 Stewart Alexander is one of the most renowned physical mediums of our time. He is also a reclusive man and gives few interviews. Our mutual friend, Leslie Kean, has convinced him to appear here on Dreamland and on Jeffrey Mishlove's New Thinking Allowed.
As a result, we have this marvelous discussion between Whitley and Stewart to enjoy. Whitley read Stewart's book prior to publication and said of it, "Reading An Extraordinary Journey, one cannot fail to come to an awareness that there is another level to reality. This book is an inspiration and a joy."
Leslie Kean in her epilogue says "I will never forget the I finished reading the first edition of An Extraordinary Journey, a book that changed my life."
This interview explores the mystery of physical mediumship and the fact that we are finally approaching a point at which the denial that has so diminished the power of our civilization is being overwhelmed by an avalanche of evidence that we are not what science and the media tell us, meat puppets with no future beyond this brief life.
Listen and be inspired to insight and question. This is pure Dreamland gold.
To get the book, and you certainly SHOULD do that, click here.
Dreamland Video podcast
To watch the FREE video version on YouTube,
click here
.
Subscribers, to watch the subscriber version of the video, first log in then click on Dreamland Subscriber-Only Video Podcast link.