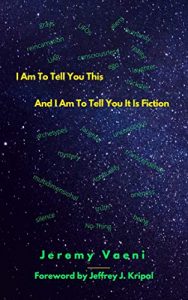 In the foreword to Jeremy Vaeni's new book, famed Rice University religious scholar and co-author of Super Natural with Whitley Strieber calls Jeremy "my teacher." He can be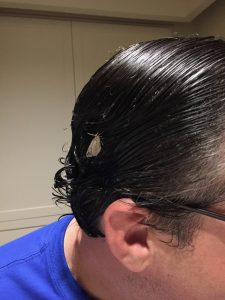 yours, too, if you dare to listen to this wild and wonderful conversation between him and Whitley. Jeremy was a favorite of Anne Strieber, who, when she heard him years ago said, "We have to have him on our site." And here he has been for years…with an occasional excursion into the outer darkness.
Right now, the Experience is running weekly, and we're hoping it'll keep doing that, because listening to Jeremy do an interview is an experience all right–an experience like no other.
Here, he talks about his new book, I am to Tell You This and I am to Tell You It is Fiction, which you can get by clicking here.
OK, so why isn't it fiction? Or what is it? The only way to find out is to listen to Jeremy and Whitley having some serious fun together. And why is there a picture here of Jeremy wearing a white moth on his head? Ask Anne Strieber…or listen to the interview and discover the secret!
Dreamland Video podcast
To watch the FREE video version on YouTube,
click here
.
Subscribers, to watch the subscriber version of the video, first log in then click on Dreamland Subscriber-Only Video Podcast link.