Archived podcast for paid Subscribers only. Please login to access.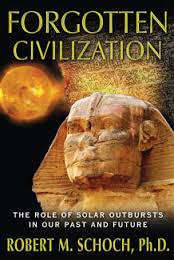 Lost civilization expert Robert Schoch was with us last year talking about his book Forgotten Civilization: the Role of Solar Outbursts
in Our Past and Future, and now he's back with mind-bending NEW discoveries about why a great and very different past civilization disappeared, and why we should look at it very carefully to understand both the perils and promise of our own future.
Whitley and Robert explore Robert's remarkable new discoveries on the Giza Plateau and how they relate to the "vitrified" areas found in such places as Scotland, where intense heat from above actually melted rock.
But then they go beyond into a truly remarkable discussion of how people in our very distant past saw the soul, and how that relates to our own world and our own vision of ourselves.
A beautiful, deeply enlightening program in Dreamland's Year of the Soul.
Subscribers listen to our great John Anthony West shows! Click here.
Contribute to John's cancer fund here.
Robert's website is RobertSchoch.com.
Dreamland Video podcast
To watch the FREE video version on YouTube,
click here
.
Subscribers, to watch the subscriber version of the video, first log in then click on Dreamland Subscriber-Only Video Podcast link.