Archived podcast for paid Subscribers only. Please login to access.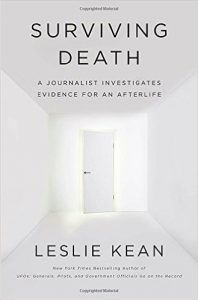 Leslie Kean, the famed author of the New York Time bestseller "UFOs: Generals, Pilots and Government Officials Go on the Record," has just published a remarkable and definitive new book, "Surviving Death: a Journalist Investigates Evidence of the Afterlife."
As Whitley is in regular contact with his wife Anne, who transitioned in August of 2015, this is one completely extraordinary interview. Listen as Whitley (and Anne!) speak with Leslie about her expertly researched book and the tremendous personal adventure she has had creating it.
There is only one place in the world where an interview like this could happen–right here on Dreamland!
Get set for a very special experience.
"Surviving Death" is available in bookstores everywhere, and online in hardcover or as an ebook. Don't miss this deeply researched and profoundly enlightening book!

Learn more about Surviving Death and Leslie's work. Click here.
Dreamland Video podcast
To watch the FREE video version on YouTube,
click here
.
Subscribers, to watch the subscriber version of the video, first log in then click on Dreamland Subscriber-Only Video Podcast link.