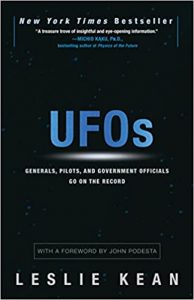 This week famed UFO investigator and New York Times reporter Leslie Kean arrives for a wide-ranging discussion about everything from her amazing book about the afterlife to the May 15 New York Times article on US Navy UFO encounters over the Atlantic. Having been friends for of 20 years, Whitley and Leslie have an intimate and wide-ranging discussion that covers everything from Leslie's reporting on the afterlife to her insights into official secrecy to previously unpublished information about the Pilot Hazard Reports t
hat were the subject of the May Times article, which she has on her desk as they discuss them.
Do not miss this extraordinary edition of Dreamland!
Leslie's website is SurvivingDeathKean.com
Get UFOs, Generals and Pilots, click here.
Get Surviving Death, click here.
Dreamland Video podcast
To watch the FREE video version on YouTube,
click here
.
Subscribers, to watch the subscriber version of the video, first log in then click on Dreamland Subscriber-Only Video Podcast link.