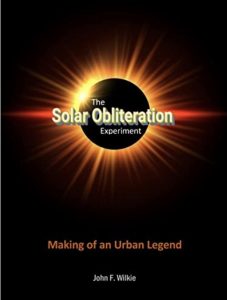 One guest has a UFO sighting and winds up livestreaming nightly UFO hunts in Whitley's home town of San Antonio, the other has a harrowing contact experience that is followed by a lifetime of search…and they meet and compare not just notes but lives, and here they are to tell us their great stories!
JohnBro Wilkie's life involving high strangeness started out at Groom Lake when he was in the military. We'll hear that story, which will leave you seriously considering that the U.S. may be in possession of some VERY weird technology. Then he learned a visioning technique he calls solar obliteration that makes it possible to see extraordinary things in bright sunlight. Some of them are insects, dust and blowing debris, but not all, and he tells us about that, as well.
Then his friend Ryan Keaton describes a UFO sighting in Government Canyon north of San Antonio that led him to take his phone out at night and start trying to do a John Martin/Melinda Leslie and video UFOs. He now livestreams his efforts every night (weather permitting) on FaceBook. Let's more of us get out there and do this!
John's book the Solar Obliteration Experiments is a testament to his unique journey and well worth your nickel. To order, click here.
Not a subscriber even yet? C'mon, get aboard so you can listen to all our great shows and so much more and video conference with our guests! Click here.
Dreamland Video podcast
To watch the FREE video version on YouTube,
click here
.
Subscribers, to watch the subscriber version of the video, first log in then click on Dreamland Subscriber-Only Video Podcast link.