Archived podcast for paid Subscribers only. Please login to access.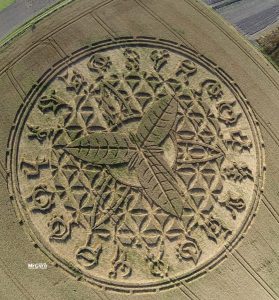 We start the show off with a SPECIAL REPORT from Linda Moulton Howe on the controversy and extreme strangeness of the fantastic Ansty crop formation that was discovered on August 11. This formation is one of the most intricate ever found. BUT IS IT A HOAX? Wait until you hear this remarkable report, as fantastic and bizarre a story as has ever appeared on Dreamland.
Then we go on to one of the most beautiful and empowering stories we have ever broadcast. Carrie L'Esperance is on a real journey. Her work is
down-to-earth and effective, and her books, the Seasonal Detox Diet and Soul Breathing are what Whitley Strieber calls "empowerment through joy." In this interview, she introduces us to the delightful experience of the journey toward higher consciousness.
As Whitley Strieber says, "it's fun." But you also need some knowledge, and in Dreamland's Year of Awakening, we're exploring many different ways of gaining that knowledge.
Carrie offers us her own wisdom and her wonderfully energetic and joyous approach to finding and living in the higher states that feed and strengthen the soul.
Fear that the materialists are right and you don't have a soul? Your best friend in learning to engage with your higher self is your body. It is designed not just to live in the world, but to transmit its experiences to your higher self. Carrie knows a great deal about just how to do this.
Carrie's website is CarrieLesperance.com.
Dreamland Video podcast
To watch the FREE video version on YouTube,
click here
.
Subscribers, to watch the subscriber version of the video, first log in then click on Dreamland Subscriber-Only Video Podcast link.