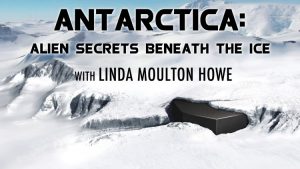 Linda Moulton Howe's new documentary Antarctica: Alien Secrets Beneath the Ice is available on Vimeo and Amazon Prime. In this interview she and Whitley go deeper, exploring the hidden meaning of the enigmatic story of a possible alien and very ancient presence in Antarctica. It would, of course, be the ideal place for aliens wishing to involve themselves with us but avoid contact to hide. Can that really be true, though, and if it is true, then what does it mean?
Whitley and Linda are at their provocative best in this marvelous interview–really, an rediscovery of some long-hidden truths. When they compare notes and share their knowledge for the first time, the result is thrilling and disquieting. Not to be missed!
Dreamland Video podcast
To watch the FREE video version on YouTube,
click here
.
Subscribers, to watch the subscriber version of the video, first log in then click on Dreamland Subscriber-Only Video Podcast link.