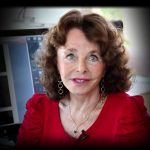 When Whitley Strieber and Linda Moulton Howe come together, you can always expect the extraordinary, and this show DOES NOT DISAPPOINT! It is WAY beyond almost anything you will hear anywhere else in terms of information, revelations and excitement. Having known each other since Linda visited the legendary Communion cabin in 1987, they know just how to pack a discussion with information and how to go right to the edge of their knowledge where the real secrets lie.
Separately, Linda and Whitley are two of the all-time greatest researchers in the UFO field. When they get together–well, it's pure gold and total dynamite!
Listen and learn.
Visit Linda Moulton Howe at Earthfiles.com. Watch her live weekly YouTube show every Wednesday at 7:30PM Mountain Time. Click here for more. Visit the Earthfiles Shop for Linda's books and much more!
Dreamland Video podcast
To watch the FREE video version on YouTube,
click here
.
Subscribers, to watch the subscriber version of the video, first log in then click on Dreamland Subscriber-Only Video Podcast link.