Archived podcast for paid Subscribers only. Please login to access.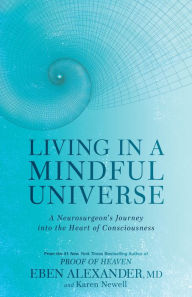 Dr. Eben Alexander and Karen Newell return to Dreamland with their amazing breakthrough book Living in a Mindful Universe. Too many of us have come to believe that you need to have an NDE, use ayahuasca or some other substance or engage in long years of meditation to reach the higher state of consciousness that we all aspire to.
Eben and Karen explain why this isn't true, and how we can journey into the highest states available to man just with our own mind and body. This exceptionally beautiful show is full of great teaching and wonderful wisdom from two masters.
Eben, a neurosurgeon with 25 years of experience at prestigious hospitals, is the author of Proof of Heaven in which he describes how his own powerful near-death experience caused him to realize that consciousness is not a brain function, but rather that the brain functions in consciousness.
Karen is the creator of Sacred Acoustics, a method that uses sound to facilitate the journey into higher states.
They come together in this powerful show, bringing us the great secret of empowerment in consciousness: it's not hard, you just have to know how!
Get Living in a Mindful Universe now. Click here.
Visit Eben Alexander on his website.
Explore the power of Sacred Acoustics. Click here.
Subscribers, enjoy Eben Alexander's previous visits to Dreamland. This wonderful collection of programming includes a great subscriber special from 2012: Dr. Eben Alexander and Anne Strieber comparing notes on their near-death experiences! To see all our Eben Alexander programming, click here.
Not a subscriber? You gotta love this very special site! Click here to explore our options!
Dreamland Video podcast
To watch the FREE video version on YouTube,
click here
.
Subscribers, to watch the subscriber version of the video, first log in then click on Dreamland Subscriber-Only Video Podcast link.