Archived podcast for paid Subscribers only. Please login to access.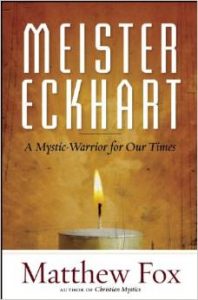 Matthew Fox, one of the great spiritual leaders of our time, discusses his new book Meister Eckhart: A Mystic-Warrior for Our Times, as well as his own transcendent vision of Christianity. This interview explores faith and his stunning vision of the Christian experience. Whitley and Matthew begin with a stunner of a discussion of Meister Eckhart's great sermon, "God Laughs and Plays." This sets the tone for a joyous exchange about deep matters of faith and the true meaning of Jesus' message. There is a reason it was called 'good news!'
In the book, Matthew Fox imagines meetings between great modern thinkers such as Carl Jung, Black Elk, Rumi and many others. Dr. Larry Dossey says "In this book, Matthew Fox, one of the gigantic Christians of this century, present Meister Eckhart, one of the gigantic Christians of the ages, in dialogue with some of today's best minds. The result is a stunning new vision of Christianity."
Matthew Fox's website is MatthewFox.org.
Next week on Dreamland: Rick Strassman, author of DMT: The Spirit Molecule. Dr. Strassman returns with a 'general theory' of what is happening to his test subjects!
Dreamland Video podcast
To watch the FREE video version on YouTube,
click here
.
Subscribers, to watch the subscriber version of the video, first log in then click on Dreamland Subscriber-Only Video Podcast link.