Archived podcast for paid Subscribers only. Please login to access.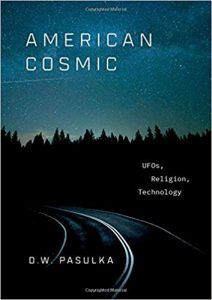 Dr. Diana Pasulka, the Chairman of the Department of Religion at the University of North Carolina, Wilmington, has written one of the most extraordinary and important UFO books that has ever been published. She had unprecedented access to two people who work on UFO related projects, and brings what she learned about their work with things like highly unusual materials to the public for the first time.
This book is another and very important step in the unfolding process of revealing what the visitors really are and how it can be that what on the one hand is a nonphysical presence on the other has left behind biological remains and materials which are of extraordinary scientific value.
This is the first of two weeks with Diana Walsh Pasulka.
Visit AmericanCosmic.com
To get American Cosmic. Click here.
To listen on TuneIn Radio, click here or search Dreamland in the TuneIn app.
To listen on Alexa, say, "Alexa, open Dreamland."
To listen on the Paranormal Radio feed, click here. You can get the Paranormal Radio app from the Apple and Android app stores. Scroll down in the app to the Dreamland podcast.
You can also listen to the free version of the show on our YouTube channel. Click here. The subscriber stream is also available on YouTube. Go to the subscriber area where you will find a link to it in the Video section.
Dreamland Video podcast
To watch the FREE video version on YouTube,
click here
.
Subscribers, to watch the subscriber version of the video, first log in then click on Dreamland Subscriber-Only Video Podcast link.