Archived podcast for paid Subscribers only. Please login to access.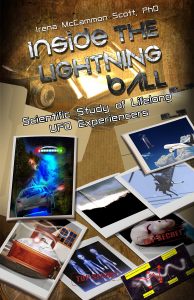 Irena Scott returns this week with an in-depth discussion of her own UFO experiences and her extensive and ultra-high strangeness experiences with lighting, including ball lightning. The story starts with a tiny silver object flying around in her room when she was a five year old girl, being witnessed by both her and her sister, and moves from there into some of the most remarkable speculations we have ever heard on this program.
As a DIA photograph specialist with a GS-11 educational level and an above top secret coded security clearance, Dr. Scott saw many unusual photographs, and describes in detail some satellite photography of UFOs that she observed. She also goes into more detail about the chilling apparent murder attempt that took place right after a UFO sighting.
There has also been, from time to time in her experience, a sense of menace, and she discusses the why of that as well, and whether or not she is herself an abductee.
A deep journey into the mind of a person who has seen a lot!
You can reach Irena at Irenascott.com.
Get Sacred Corridors from Amazon through us. Click here!
Get Inside the Lightning Ball. Click here!
PLEASE NOTE: THE LOCAL STREAMS ON THIS EDITION OF DREAMLAND ARE FUNCTIONING
SPORADICALLY. IF THEY WILL NOT STREAM FOR YOU, PLEASE LISTEN ON ONE OF OUR OTHER VENUES.
Then Whitley has Diana Walsh Pasulka as his guest for two weeks. Dr. Pasulka has written an explosive book called American Cosmic that explores the world behind the curtain of secrecy as never before, thanks to her unprecedented access to inside information and the insider community. She and Whitley are longtime friends, so this will be a deeply personal conversation as well as a highly informative one.
Visit AmericanCosmic.com
Get American Cosmic. Click here.
To listen on TuneIn Radio, click here or search Dreamland in the TuneIn app.
To listen on Alexa, say, "Alexa, open Dreamland."
To listen on the Paranormal Radio feed, click here. You can get the Paranormal Radio app from the Apple and Android app stores. Scroll down in the app to the Dreamland podcast.
You can also listen to the free version of the show on our YouTube channel. Click here. The subscriber stream is also available on YouTube. Go to the subscriber area where you will find a link to it in the Video section.
Dreamland Video podcast
To watch the FREE video version on YouTube,
click here
.
Subscribers, to watch the subscriber version of the video, first log in then click on Dreamland Subscriber-Only Video Podcast link.