Archived podcast for paid Subscribers only. Please login to access.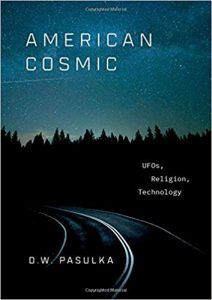 This is Dreamland's second week with American Cosmic. Because two of the individuals discussed under pseudonyms in the book hold security clearances and requested that the interviews be officially vetted for possible issues, we had to agree to let security personnel connected with them listen. The first interview, which we aired last week, was passed.
Unfortunately, this is not true of the second one, and we are unable to air it. As Diana and Whitley don't hold clearances, neither of them can be told what parts of the interview were problematic, so it can't be edited.
Instead, Whitley has done an extensive review of the book that goes beyond last week's interview. It includes some remarkable and important insights into the "donation site" mentioned in the book, that come from his own long history of communicating with the visitors.
Normally Dreamland is an interview show, but this week is different, and unique. Don't miss a word of it. It is FULL of fascinating and important new information.
Please understand that Whitley really is in deep and frequent communication with the visitors and therefore must possess some information that is classified. Normally, he can discuss anything he wants that they have not directly asked him to keep secret, but in this situation the fact that he knows the two individuals who are mentioned under pseudonyms in the book, and knows that they possess classified information, he ended up in a gray area with these interviews. It may not be illegal for us to air them, but it could be dangerous for the two people involved.
One thing we can assure you of: Whitley is without question the most knowledgeable person in the world outside of the secret government when it comes to aliens and close encounters. He says this about this show: "Please let the listeners know that I always and without fail disclose everything I can except material that the visitors themselves want me to keep secret. This consists of a very small amount of material which, if revealed, would potentially cause vulnerabilities. They are trying hard to open this up to everybody, and so are those of us who work with them, on both sides of the security wall."
Visit AmericanCosmic.com
To get American Cosmic. Click here.
To listen on TuneIn Radio, click here or search Dreamland in the TuneIn app.
To listen on Alexa, say, "Alexa, open Dreamland."
To listen on the Paranormal Radio feed, click here. You can get the Paranormal Radio app from the Apple and Android app stores. Scroll down in the app to the Dreamland podcast.
You can also listen to the free version of the show on our YouTube channel. Click here. The subscriber stream is also available on YouTube. Go to the subscriber area where you will find a link to it in the Video section.
Dreamland Video podcast
To watch the FREE video version on YouTube,
click here
.
Subscribers, to watch the subscriber version of the video, first log in then click on Dreamland Subscriber-Only Video Podcast link.