Archived podcast for paid Subscribers only. Please login to access.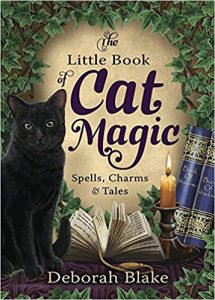 It's summer solstice weekend and what better way to celebrate than with a Wiccan high priestess! Here on Dreamland we welcome all searchers, so we're taking this opportunity to listen to the wisdom of Wiccan author Deborah Blake whose new book, the Little Book of Cat Magic, is an absolute delight. More than that it's a deceptively serious deep dive into the connection between us and the animals in our lives, and how to make that connection work in some very new ways.
This is not a show about cats alone, but about cats and magic, and how the two relate. It's full of ideas for spells that will connect you with your cat and involve your cat in your inner life, and so restore the connection to nature that the modern world has broken in most of us.
What is magic? What are spells? Do you have to be a magician or a Wiccan to use spells, and how does magic work? Is black magic real and is it dangerous? What is good magic and how does doing it benefit you?
Deborah has been doing magic for many years and seen it work. As Whitley points out, it doesn't work all the time, though. So why not? Deborah brings deep understanding to that question and many others.
Join her on this journey into the secrets of Cat Magic. Find out who your feline partners really are, and not only what they mean to you, but what you mean to them!
Happy summer, 2019!
Visit Deborah on her website, DeborahBlakeAuthor.com
Get the Little Book of Catmagic through us! Click here.
Please note that mobile devices are not designed for downloading and most will not display the download icon at the end of the downloadable files. If you want to download to an Apple device, get the File Manager app and download through the app. To download to an Android device, right click the "Link" text link and choose "Download Link."
Dreamland Video podcast
To watch the FREE video version on YouTube,
click here
.
Subscribers, to watch the subscriber version of the video, first log in then click on Dreamland Subscriber-Only Video Podcast link.