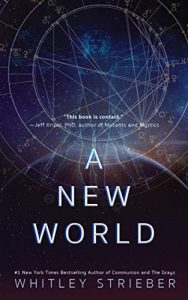 I–or rather, we–have finally finished A New World. I have been working on it for three years, and intensively since February of this year. The visitors have worked with me directly since February of 2019. A year before, I had a sort of fight with them over why they remain hidden. The response was that we cannot communicate with them because of our fear and our lack of understanding of the differences between us. The exchange ended with a brief physical encounter that left me with a gash on my left calf that took months to heal.
I had said that I was no longer afraid. To illustrate the fact that this was not correct, one of them slipped into my bed in the middle of the night and settled between my legs. I woke up because I felt something pressing against my privates. As I have no pets, I realized at once that it was one of them and leaped out of the bed. It shot upward and disappeared in a black blur. As I jumped out of the bed, one of its nails (claws, really) scratched along the calf.
There then commenced what has become 20 months of intensive teaching and involvement, using the implant and the other means of communication that have evolved between us. It has been an extraordinary personal challenge. Ten hour and longer workdays were normal. The book went through dozens of secondary drafts and a grand total of seven original drafts.
The result is something that is literally totally new. It amounts to a completely new understanding of the meaning of this remarkable presence that is in part other-worldly, in part human, in part involving physical bodies and in part nonphysical presences. Among other things, both their secrecy and official secrecy are explained correctly. Their motive for being here is also explained, both in terms of what they want from us and what they have to give in return.
They are going to be the greatest trading partners we have ever known, but I can assure you that they are not going to be here selling Interociters (Google it) or flying saucers or whatever. They are, however, going to be bringing knowledge, and the book goes into how that has already been done, naming names where possible, and what we need to do to make it happen more reliably and consistently.
My hope is that it heralds a fundamental change in our entire understanding of them that is more true than what we have come to believe from our own observations. In fact, it is my strong impression that few of the beliefs that have grown up around their presence are correct. Of course, I have been saying that–and not being heard–since Communion days. It is crystal clear in A New World.
The book has arisen out of a partnership with them. I am quite sure that it is the first of its kind. It is here to facilitate a greater partnership that has as its goal a completely new kind of human experience that is richer and more fulfilling than what we have now, and one that enables mankind to persist in the universe and on this planet, essentially forever. It involves the end of the barrier between the living and the dead and with that a completely new way of experiencing life.
All of that said, last night I had another encounter with them. It was very much like the one that started this process, which led to my leaping out of bed in a fit of terror.
This time, I still felt exactly the same level of fear. This is because facing the visitors is always going to be hard for us, the reason for which is explained in the book. The difference is that I just accepted the fear as part of me and didn't worry about it.
We have a very long way to go in contact. I don't think any of our beliefs about anything are going to survive it. But what is going to replace them is going to be so much more than we have known before.
They started increasing their contact with us when they did in the 1940s because they saw that we were in danger of dying here. We are now in even greater danger and it their intention to help up save ourselves. Why they want us to do this–what we mean to them–is explained in the book, I hope, clearly.
It also explains not only their reasons for their secrecy, but also how they have induced the US military, which has been our primary face-to-face point of contact with them from mid-1944, to also keep their presence secret.
It explains, as well, why the United States, Canada and Australia have been the primary areas where contact with the public has been sought.This was always an interesting mystery to me, but now that I understand their logic, I also see why the choices were made. (There are many older cultures in the world which have had ongoing relationships with them for thousands of years. The book only touches on that reality. It is primarily about how to understand the new relationship that is being built in western culture and on western terms, just as it was built years ago in the older cultures and on their terms.)
So, the first part of the task is done. The book–the impossible book–is now a reality. Now to spread the word!
It will be available in paperback and on Kindle on November 15, and as an Audible audio book either on the same day or shortly thereafter. You can see the Kindle pre-order posting by clicking here. After 90 days, it will also be available on all other ebook platforms.
Dreamland Video podcast
To watch the FREE video version on YouTube,
click here
.
Subscribers, to watch the subscriber version of the video, first log in then click on Dreamland Subscriber-Only Video Podcast link.